What's New in V14?
The only new feature in
V14
is the ability to view
CSV files
as tables.
CSV files are typically used to represent tabular data, where each line in the file represents a row of a table. Each line contains the text of each column in the row, separated by a comma (although other characters can be used - eg, a TAB).
By default, V14 will automatically recognize CSV files and will display them as a table - where all the columns have the same width (much like a spreadsheet). Although unlike a spreadsheet, the column widths in V are fixed (determined by the longest entry in the column) and cannot be resized.
You can press the arrow button next to the new CSV Mode button in the toolbar to customize the CSV behavior. Press the CSV Mode button to toggle between CSV mode and standard text mode.
Click here for further details on CSV mode
This is an example of what CSV mode looks like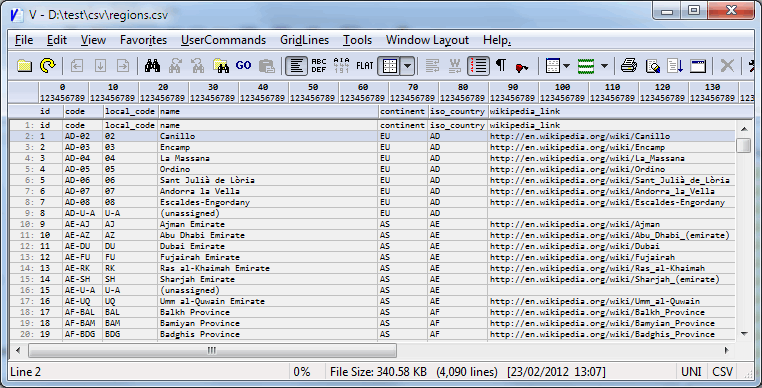 And this is the same file displayed in standard text mode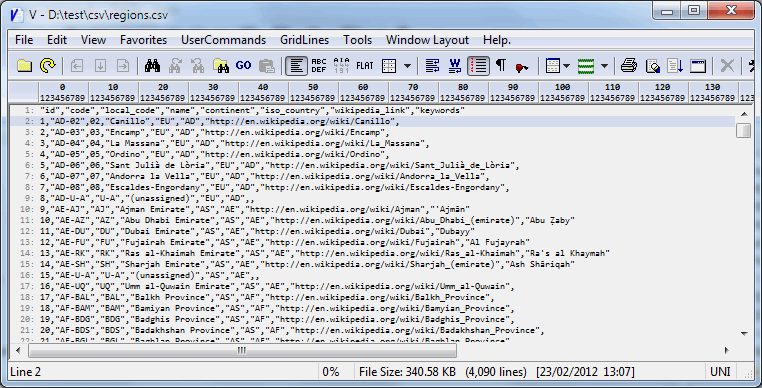 Feedback
I look forward to your feedback on the new CSV functionality. If you have any problems with a CSV file, it would help greatly if you could send it to me.
If you have any questions, please submit them to the Beta Versions section of the Support Forum, or send me an email.